Full Text of Paper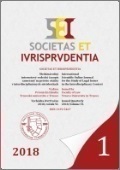 Read paper (PDF)
---
Source Type: Journal
Document Type: Study
Document Language: Slovak
Published on: 31. 3. 2018
File Format: PDF
File Size: 659 kB
Marcel Dolobáč
In: Societas et iurisprudentia • 2018 • Volume 6 • Issue 1 • Pages 106-120 • ISSN 1339-5467
Abstract: The author of the paper analyses the issue of securing the rights and obligations in the area of the labour law, with his focus laid on selected theoretical and practical problems of individual security institutes, i.e. salary deduction agreements, surety and liens. In connection with the practically possible application and implementation of these institutes, the author highlights the necessity of using the method of analogy with the civil law regulation. The author also considers the repeated request of the employers to extend the catalogue of security institutes in the area of the labour law in connection with the current legislation.
Key Words: Labour Law; Securing of Rights and Obligations; Salary Deduction Agreement; Surety; Right of Lien; the Slovak Republic.
URL: https://sei.iuridica.truni.sk/archive/2018/01/SEI-2018-01-Studies-Dolobac-Marcel.pdf
Bibliographic Citation
DOLOBÁČ, M. Zabezpečenie práv a povinností v slovenskom pracovnom práve. Societas et iurisprudentia [online]. 2018, vol. 6, no. 1, pp. 106-120 [cit. 2020-01-01]. ISSN 1339-5467. Available at: https://sei.iuridica.truni.sk/international-scientific-journal/archive/issue-2018-01/securing-of-rights-and-obligations-in-the-slovak-labour-law/.