Full Text of Paper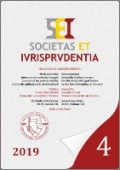 Read paper (PDF)
---
Source Type: Journal
Document Type: Study
Document Language: Slovak
Published on: 31. 12. 2019
File Format: PDF
File Size: 682 kB
Andrea Olšovská – Marek Švec
In: Societas et iurisprudentia • 2019 • Volume 7 • Issue 4 • Pages 39-53 • ISSN 1339-5467
Abstract: During the employment relationship, there can occur situations that prevent the employee from performing work due to reasons by both the employer and also the employee. Some situations are envisaged by the Slovak Labour Code and, during their existence, the applicable legislation provides the employee with time off and, in specified cases, also with compensation of wages. The employee being taken into custody (pre-trial detention) is one of the reasons of employee's absence from work; although it is not so frequent, there still exist such cases. Since the Slovak Labour Code does not explicitly link the existence of such a situation to the employer's obligation to justify absence from work, there are different views on how to deal with such a situation. The paper, therefore, seeks to present a possible solution for employers when their employees are taken into custody – pre-trial detention.
Key Words: Labour Law; Labour Code; Code of Criminal Procedure; Absence from Work; Obstacles to Work; Pre-trial Detention; the Slovak Republic.
URL: https://sei.iuridica.truni.sk/archive/2019/04/SEI-2019-04-Studies-Olsovska-Andrea-Svec-Marek.pdf
Bibliographic Citation
OLŠOVSKÁ, A. and M. ŠVEC. Väzba a pracovnoprávne vzťahy. Societas et iurisprudentia [online]. 2019, vol. 7, no. 4, pp. 39-53 [cit. 2020-01-01]. ISSN 1339-5467. Available at: https://sei.iuridica.truni.sk/international-scientific-journal/archive/issue-2019-04/pre-trial-detention-and-labour-law-relationships/.