Full Text of Paper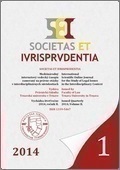 Read paper (PDF)
---
Source Type: Journal
Document Type: Study
Document Language: English
Published on: 31. 3. 2014
File Format: PDF
File Size: 636 kB
Jacek Dworzecki
In: Societas et iurisprudentia • 2014 • Volume 2 • Issue 1 • Pages 19-27 • ISSN 1339-5467
Abstract: This paper presents the tasks entrusted to officers of the Polish police acting on behalf of the Chief of Police and Provincial Police Commanders, proxy functions for the protection of human rights. In addition, the text indicates the principal regulations which currently form the Polish police law and which discuss the issues in the area of respect for human rights and freedoms.
Key Words: Human Rights; Proxy for Human Rights; the Polish Police; Poland.
URL: http://sei.iuridica.truni.sk/archive/2014/01/SEI-2014-01-Studies-Dworzecki-Jacek.pdf
Bibliographic Citation
DWORZECKI, J. Police Task of Agents for the Protection of Human Rights in Poland. Societas et iurisprudentia [online]. 2014, vol. 2, no. 1, pp. 19-27 [cit. 2020-01-01]. ISSN 1339-5467. Available at: http://sei.iuridica.truni.sk/international-scientific-journal/archive/issue-2014-01/police-task-of-agents-for-the-protection-of-human-rights-in-poland/.