Full Text of Paper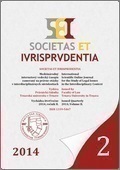 Read paper (PDF)
---
Source Type: Journal
Document Type: Essay
Document Language: Slovak
Published on: 30. 6. 2014
File Format: PDF
File Size: 841 kB
Peter Vyšný
In: Societas et iurisprudentia • 2014 • Volume 2 • Issue 2 • Pages 179-206 • ISSN 1339-5467
Abstract: The paper is an essay, which deals with contents of the book Understanding Early Civilizations and highlights its contribution to the science of History of State and Law, which is understood here as a world-wide operating and comparing science. The contribution of the book to the science of History of State and Law is the following: The book introduces us to little known and the unknown, for the History of State and Law useful works and opinions of foreign social scientists as well as to international social science discussions; the book covers insightful theoretical and methodological considerations on e.g. comparative method, and a sophisticated process of the research object's delimitation which is the early civilization; the book characterizes comprehensively the early civilizations and brings interesting and revealing findings and conclusions useful in the history of state and law.
Key Words: Early Civilization; Comparative Method; Similarities and Differences; Contribution.
URL: http://sei.iuridica.truni.sk/archive/2014/02/SEI-2014-02-Essays-Vysny-Peter.pdf
Bibliographic Citation
VYŠNÝ, P. Kniha Bruce G. Triggera Porozumieť raným civilizáciám a jej prínos pre všeobecné a porovnávacie dejiny štátu a práva. Societas et iurisprudentia [online]. 2014, vol. 2, no. 2, pp. 179-206 [cit. 2020-01-01]. ISSN 1339-5467. Available at: http://sei.iuridica.truni.sk/international-scientific-journal/archive/issue-2014-02/bruce-g-triggers-book-understanding-early-civilizations-and-its-contribution-to-the-general-and-comparative-history-of-state-and-law/.