Full Text of Paper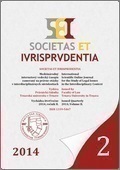 Read paper (PDF)
---
Source Type: Journal
Document Type: Study
Document Language: Slovak
Published on: 30. 6. 2014
File Format: PDF
File Size: 644 kB
Viktor Križan
In: Societas et iurisprudentia • 2014 • Volume 2 • Issue 2 • Pages 85-99 • ISSN 1339-5467
Abstract: The paper analyzes the decision of the Court of Justice of the European Union in joined Cases TSN and YTN, concerning the interpretation of directives governing maternity leave, parental leave and equal opportunities as well as equal treatment of men and women. Subject of the dispute was rejection to pay remuneration which is under collective agreements usually paid during maternity leave, to two Finnish female employees due to interruption of unpaid parental leave by maternity leave. In addition of comment of the decision the author presents also its importance to the legal system of the Slovak Republic.
Key Words: Maternity Leave; Parental Leave; the Court of Justice of the European Union; Directive 92/85/EEC; Directive 96/34/EC; Remuneration; Conditions in the Collective Agreement; Case TSN and YTN; Maintenance of Remuneration; the Slovak Republic.
URL: http://sei.iuridica.truni.sk/archive/2014/02/SEI-2014-02-Studies-Krizan-Viktor.pdf
Bibliographic Citation
KRIŽAN, V. K zachovaniu odmeny a/alebo nároku na primeranú dávku tehotnej zamestnankyne: prípady C-512/11 a C-513/11, TSN a YTN. Societas et iurisprudentia [online]. 2014, vol. 2, no. 2, pp. 85-99 [cit. 2020-01-01]. ISSN 1339-5467. Available at: http://sei.iuridica.truni.sk/international-scientific-journal/archive/issue-2014-02/to-maintain-of-remuneration-and-or-entitlement-to-an-adequate-allowance-of-a-pregnant-worker-cases-c-512-11-and-c-513-11-tsn-and-ytn/.