Full Text of Paper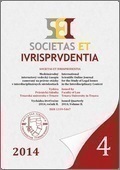 Read paper (PDF)
---
Source Type: Journal
Document Type: Study
Document Language: Slovak
Published on: 31. 12. 2014
File Format: PDF
File Size: 677 kB
Helena Barancová
In: Societas et iurisprudentia • 2014 • Volume 2 • Issue 4 • Pages 19-31 • ISSN 1339-5467
Abstract: The presented study focuses on the current issues of the factual employment. Its author specifically concentrates on the following key areas: legal definition of the factual employment; invalidity of the employment contract; foreign legal regulations related to the issues of the factual employment, with a special attention laid on the German-speaking legal environment; legal consequences of working under invalid employment contract; settlement of legal claims by the so-called factual employment as well as termination of the factual employment.
Key Words: Employment; Factual Employment; Employment Contract; Invalidity of Legal Acts; Relative Nullity of Legal Acts; Invalidity of Employment Contract; Fault of the Employee; Method of Terminating Factual Employment; Damages; Labour Responsibility; Protective Function of Labour Law; Germany; Austria; the Slovak Republic.
URL: http://sei.iuridica.truni.sk/archive/2014/04/SEI-2014-04-Studies-Barancova-Helena.pdf
Bibliographic Citation
BARANCOVÁ, H. Faktický pracovný pomer. Societas et iurisprudentia [online]. 2014, vol. 2, no. 4, pp. 19-31 [cit. 2020-01-01]. ISSN 1339-5467. Available at: http://sei.iuridica.truni.sk/international-scientific-journal/archive/issue-2014-04/factual-employment/.