Full Text of Paper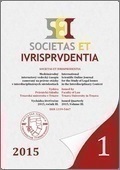 Read paper (PDF)
---
Source Type: Journal
Document Type: Study
Document Language: English
Published on: 31. 3. 2015
File Format: PDF
File Size: 2254 kB
Monika Jurčová – Jozef Štefanko
In: Societas et iurisprudentia • 2015 • Volume 3 • Issue 1 • Pages 43-108 • ISSN 1339-5467
Abstract: Tenancy law has been deeply rooted in the national housing policy. This policy and the ability of the state to address the housing needs of its inhabitants strongly influences the overall satisfaction of the citizens. The complicated historical, social and political developments in Slovakia during the last century have all been partial reasons, for which the rental sector in Slovakia is deemed underdeveloped. The preliminary thorough analysis of the economic, urban and social factors of housing in this article should serve as a starting point to the closely related interpretation of the tenancy law and trigger de lege ferenda proposals in its realm.
Key Words: Tenancy Law; National Housing Policy; National Housing Situation; Economic Factors of Housing; Urban Factors of Housing; Social Factors of Housing; the Slovak Republic.
URL: http://sei.iuridica.truni.sk/archive/2015/01/SEI-2015-01-Studies-Jurcova-Monika-Stefanko-Jozef.pdf
Bibliographic Citation
JURČOVÁ, M. and J. ŠTEFANKO. Tenancy Law in Slovakia: Housing Situation, Economic Urban and Social Factors of Housing. Societas et iurisprudentia [online]. 2015, vol. 3, no. 1, pp. 43-108 [cit. 2020-01-01]. ISSN 1339-5467. Available at: http://sei.iuridica.truni.sk/international-scientific-journal/archive/issue-2015-01/tenancy-law-in-slovakia-housing-situation-economic-urban-and-social-factors-of-housing/.