Full Text of Paper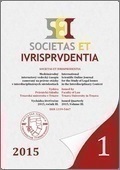 Read paper (PDF)
---
Source Type: Journal
Document Type: Study
Document Language: English
Published on: 31. 3. 2015
File Format: PDF
File Size: 702 kB
Miriam Laclavíková – Andrea Olšovská
In: Societas et iurisprudentia • 2015 • Volume 3 • Issue 1 • Pages 109-132 • ISSN 1339-5467
Abstract: The freedom of contracts forms the basis of the private-law aspects of the labour law and, in the same time, it expresses a part of the parties' freedom in the form of contractual autonomy. Within the labour law we recognize the basic types of contracts which, by their legal importance, establish the respective contractual employment relationship (the employment contract and agreements on work performed outside the employment) and other types of contracts which provide, strengthen, deepen, alter, or terminate the already established employment relationship. In the presented study, we aim to outline the development of the legislation governing the employment contract during the 20th Century, with emphasis laid on its modifications which have been depended also on the turbulent political development on our territory.
Key Words: Labour Law; Employment Contract; Employment Relationship; Legal Development; Labour Code; Slovakia.
URL: http://sei.iuridica.truni.sk/archive/2015/01/SEI-2015-01-Studies-Laclavikova-Miriam-Olsovska-Andrea.pdf
Bibliographic Citation
LACLAVÍKOVÁ, M. and A. OLŠOVSKÁ. The Employment Contract as a Central Institute of Labour Law – Past vs. Present. Societas et iurisprudentia [online]. 2015, vol. 3, no. 1, pp. 109-132 [cit. 2020-01-01]. ISSN 1339-5467. Available at: http://sei.iuridica.truni.sk/international-scientific-journal/archive/issue-2015-01/the-employment-contract-as-a-central-institute-of-labour-law-past-vs-present/.