Full Text of Paper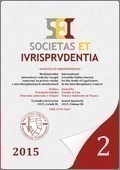 Read paper (PDF)
---
Source Type: Journal
Document Type: Study
Document Language: English
Published on: 30. 6. 2015
File Format: PDF
File Size: 733 kB
Andrea Olšovská – Miriam Laclavíková
In: Societas et iurisprudentia • 2015 • Volume 3 • Issue 2 • Pages 31-45 • ISSN 1339-5467
Abstract: The present paper deals with the issue of invalidity of employment termination, where the employment is terminated on the basis of a legal act, and where the non-compliance with good morals applies. Although there are formally met the requirements for valid termination of employment, the circumstances involving the termination of employment are those which are contrary to the basic rules of decency or morality (contra bonos mores). There are cases when the employers in order to "get rid of" an inconvenient employee create fictitious organizational changes and dismiss this employee because of his redundancy, or create a situation of a gross professional misconduct.
Key Words: Labour Law; Employment Termination; Invalidity of the Legal Act; Good Morals (contra bonos mores); Labour Code; Supreme Court of the Slovak Republic; the Slovak Republic.
URL: http://sei.iuridica.truni.sk/archive/2015/02/SEI-2015-02-Studies-Olsovska-Andrea-Laclavikova-Miriam.pdf
Bibliographic Citation
OLŠOVSKÁ, A. and M. LACLAVÍKOVÁ. Employment Termination from the Point of View of Good Morals. Societas et iurisprudentia [online]. 2015, vol. 3, no. 2, pp. 31-45 [cit. 2020-01-01]. ISSN 1339-5467. Available at: http://sei.iuridica.truni.sk/international-scientific-journal/archive/issue-2015-02/employment-termination-from-the-point-of-view-of-good-morals/.