Full Text of Paper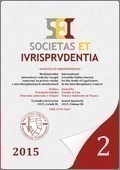 Read paper (PDF)
---
Source Type: Journal
Document Type: Study
Document Language: Slovak
Published on: 30. 6. 2015
File Format: PDF
File Size: 859 kB
Kristián Blaškovič
In: Societas et iurisprudentia • 2015 • Volume 3 • Issue 2 • Pages 75-104 • ISSN 1339-5467
Abstract: The United Nations Security Council (hereinafter as the "UN Security Council") has been the central body of the system of collective security which is a philosophical counterpart of the system of balance of power. In comparison with the Council of the League of Nations we can see various differences, especially in a way that the UN Security Council can adopt measures legally binding for every state of the world. This body has not just unprecedented competencies, but what is more vital is that it has various sanctions to its disposal by which it can enforce the international law. The UN Security Council is a collective body which has both permanent and elected members. Being a member of it is a great prestige, but also a great responsibility. The Slovak Republic has been an elected member of it only once in its short history, however, it was praised for the role it played during the two year's term. The aim of this study is to introduce the most important moments of the Slovak presidency to which, unfortunately, smaller attention is being paid than it deserves.
Key Words: The United Nations Security Council; Resolutions; Sanctions; Reform of the Security Sector; International Law; the Slovak Republic.
URL: http://sei.iuridica.truni.sk/archive/2015/02/SEI-2015-02-Studies-Blaskovic-Kristian.pdf
Bibliographic Citation
BLAŠKOVIČ, K. Slovenské predsedníctvo v Bezpečnostnej rade Organizácie Spojených národov. Societas et iurisprudentia [online]. 2015, vol. 3, no. 2, pp. 75-104 [cit. 2020-01-01]. ISSN 1339-5467. Available at: http://sei.iuridica.truni.sk/international-scientific-journal/archive/issue-2015-02/the-slovak-presidency-in-the-united-nations-security-council/.