Full Text of Paper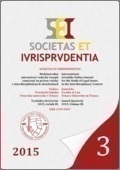 Read paper (PDF)
---
Source Type: Journal
Document Type: Study
Document Language: Slovak
Published on: 30. 9. 2015
File Format: PDF
File Size: 1114 kB
Jana Knežová
In: Societas et iurisprudentia • 2015 • Volume 3 • Issue 3 • Pages 104-144 • ISSN 1339-5467
Abstract: On January 1st, 2015, ten years have passed since the implementation of the new system of financing the municipalities in the Slovak Republic established through the process of fiscal decentralization. The fiscal decentralization was realized to strengthen the relative financial autonomy of local governments by managing their own resources. The main goal was to support the local and regional self-governments to become stable and efficient subsystem of the public administration. Decade of existence of new legislative funding rules for local self-government gives a great opportunity for a critical assessment of the development of the municipal financing system, with regard to the challenges in the external environment as well as internal problems by financial ensuring of public goods and services. This study focuses mainly on analyzing the possibilities of multi-source funding of municipalities in terms of the most important incomes in the local budgets and on assessing the impact of the key changes on the development of their financial management. The results show still relatively strong dependence on centralized incomes and other external sources. Different factors contributed to the financial instability, in particular the global financial crisis, long-unsolved problems in connection with fragmented settlement structure as well as the associated lack of capacity of municipalities to provide some public goods and services, and other legislative changes.
Key Words: Fiscal Decentralization; Municipal Revenues; Own Revenues; Local Taxes; Fees; Loans; Budgets; Repayable Receipts; Transfers; Relative Financial Autonomy; the Slovak Republic.
URL: http://sei.iuridica.truni.sk/archive/2015/03/SEI-2015-03-Studies-Knezova-Jana.pdf
Bibliographic Citation
KNEŽOVÁ, J. Finančné zdroje obcí v Slovenskej republike v desaťročnej reflexii fiškálnej decentralizácie. Societas et iurisprudentia [online]. 2015, vol. 3, no. 3, pp. 104-144 [cit. 2020-01-01]. ISSN 1339-5467. Available at: http://sei.iuridica.truni.sk/international-scientific-journal/archive/issue-2015-03/financial-resources-of-municipalities-in-the-slovak-republic-with-regard-to-a-decade-reflection-of-fiscal-decentralization/.