Full Text of Paper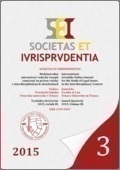 Read paper (PDF)
---
Source Type: Journal
Document Type: Study
Document Language: Slovak
Published on: 30. 9. 2015
File Format: PDF
File Size: 1019 kB
Mikuláš Krippel
In: Societas et iurisprudentia • 2015 • Volume 3 • Issue 3 • Pages 145-182 • ISSN 1339-5467
Abstract: The presented study deals with the enrolled amendment of the Social Insurance Act No. 461/2003 Coll. This amendatory act institutes repeatedly the minimum pension within the pension insurance system of the Slovak Republic. The paper recalls the obsolete institutes – the minimum pension and the social pension known from the Social Security Act No. 100/1988 Coll. and highlights the previous method of calculating the pension. At the same time, the author analyzes the newly introduced institute of a minimum pension and describes conditions for entitlement to the minimum pension as well as calculation of the amount of the disability pension. He also presents some arguments for and against the introduction of this institute and some arguments for and against the approved form of the minimum pension.
Key Words: Pension Insurance; Pension; Disability Pension; Minimum Pension; Social Insurance; Old Age Pension; Social Insurance Act; Pension Increases; the Slovak Republic.
URL: http://sei.iuridica.truni.sk/archive/2015/03/SEI-2015-03-Studies-Krippel-Mikulas.pdf
Bibliographic Citation
KRIPPEL, M. Inštitút minimálneho dôchodku v dôchodkovom poistení Slovenskej republiky. Societas et iurisprudentia [online]. 2015, vol. 3, no. 3, pp. 145-182 [cit. 2020-01-01]. ISSN 1339-5467. Available at: http://sei.iuridica.truni.sk/international-scientific-journal/archive/issue-2015-03/minimum-pension-in-the-pension-insurance-system-of-the-slovak-republic/.