Full Text of Paper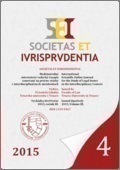 Read paper (PDF)
---
Source Type: Journal
Document Type: Study
Document Language: Slovak
Published on: 31. 12. 2015
File Format: PDF
File Size: 817 kB
Marta Matulčíková
In: Societas et iurisprudentia • 2015 • Volume 3 • Issue 4 • Pages 69-87 • ISSN 1339-5467
Abstract: The presented study discusses selected requirements for the work performance that are the basis of the work applicability as well as analyses the preparation of education and the learning process. It is necessary for the work performance on the one hand to define a summary of qualifications, i.e. knowledge, skills, and other professional and personal conditions necessary for its implementation; on the other hand that creates a certain extension it is important to focus on observable results arising from the skills and competence of the staff and managers. It is necessary to be aware that the same task, action can take place in different ways and it can achieve different results. It is important to deal with detailed descriptions of behaviour and course of action in certain situations, within the existence of specific information. Systematic learning leading to acquisition of knowledge and skills affects not only the comprehensive development of personality, but will also shape the attitude and present ways of dealing with situations and influence changes in behaviour and actions of individuals. When designing educational programs it is needed to select a team approach, where, in addition to experts in education and training experts, also representatives of employers would be available who would present the suitability methods of solutions for specific situations, aimed at achieving the set objectives.
Key Words: Education; Job Opportunities; Competencies; Performance; Work Performance Conditions; Survey; Comparative Analysis; the Slovak Republic.
URL: http://sei.iuridica.truni.sk/archive/2015/04/SEI-2015-04-Studies-Matulcikova-Marta.pdf
Bibliographic Citation
MATULČÍKOVÁ, M. Požiadavky výkonu pracovných činností a príprava vzdelávacích aktivít. Societas et iurisprudentia [online]. 2015, vol. 3, no. 4, pp. 69-87 [cit. 2020-01-01]. ISSN 1339-5467. Available at: http://sei.iuridica.truni.sk/international-scientific-journal/archive/issue-2015-04/performance-requirements-of-work-actions-and-preparation-of-educational-activities/.