Full Text of Paper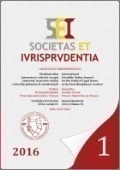 Read paper (PDF)
---
Source Type: Journal
Document Type: Study
Document Language: Slovak
Published on: 31. 3. 2016
File Format: PDF
File Size: 921 kB
Kristián Blaškovič
In: Societas et iurisprudentia • 2016 • Volume 4 • Issue 1 • Pages 62-103 • ISSN 1339-5467
Abstract: This study deals with the topic of the United Nations Security Council's smart sanctions. Although they are frequently applied (certainly more often than coercion with the use of armed force), considerably less attention is paid to them in domestic academic publications. Therefore, the aim of this scientific paper is to offer at least a basic overview of this type of collective sanctions in order to fill the gap. It is based on describing the so-called classical forms of sanctions and on introducing the humanitarian problems related to their application which paved the way to smart sanctions. Subsequently, a comparison of classical and smart sanctions follows. Beside legal characteristics, a comparative analysis of these two types of sanctions was one of the main research methods used in this paper. In the conclusion attention is paid to the question of effectiveness of smart sanctions; however, the study does not offer an exact answer of this specific and very difficult issue.
Key Words: United Nations Security Council; Sanctions; Smart Sanctions; Effectiveness.
URL: http://sei.iuridica.truni.sk/archive/2016/01/SEI-2016-01-Studies-Blaskovic-Kristian.pdf
Bibliographic Citation
BLAŠKOVIČ, K. Cielené sankcie Bezpečnostnej rady Organizácie Spojených národov. Societas et iurisprudentia [online]. 2016, vol. 4, no. 1, pp. 62-103 [cit. 2020-01-01]. ISSN 1339-5467. Available at: http://sei.iuridica.truni.sk/international-scientific-journal/archive/issue-2016-01/smart-sanctions-of-the-united-nations-security-council/.