Full Text of Paper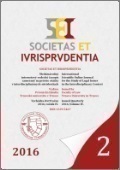 Read paper (PDF)
---
Source Type: Journal
Document Type: Study
Document Language: English
Published on: 30. 6. 2016
File Format: PDF
File Size: 753 kB
Filip Oller
In: Societas et iurisprudentia • 2016 • Volume 4 • Issue 2 • Pages 111-141 • ISSN 1339-5467
Abstract: MiFID II and MiFIR were adopted in the light of the financial crisis in order to enhance the investor protection and to ensure transparent trading. Both referred to as MiFID II, they replace former MiFID I and cover securities, investment intermediaries, and trading venues. The aim of MiFID II is to put in place a single European rulebook regarding investment services and activities, including ancillary activities, and to strengthen the legal framework set up by MiFID I. In addition, MiFID II regulatory package is extended for the number of financial instruments. MiFID II requires that the trading is performed on regulated platforms. MiFID II rules reflect technical advances in the investment business as well. Therefore, regulatory framework regarding the high frequency trading was introduced. The date of entry into application of MIFID II is January 3rd, 2018. Such long period for entering into application is due to the complexity of the implementing process, mostly from technical point of view. MiFID II is very challenging for ESMA, national competent authorities, and for other stakeholders. The study is written from the perspective of investment firms as one of these stakeholders. The paper covers topics such as definition of investment activities, investment services and financial instruments, topic of passporting and the third country regime, incentives, suitability, and appropriateness of product design, information provided to client, execution only and best execution rules, records management, client assets, conflict of interests, complaints handling, client classification, corporate governance, commodity derivatives.
Key Words: MiFID II; MiFID I; MiFIR; Regulatory Package; Investment Services; Investment Activities; Ancillary Activities; Financial Instrument; Investment Firm; Client; the European Union.
URL: http://sei.iuridica.truni.sk/archive/2016/02/SEI-2016-02-Studies-Oller-Filip.pdf
Bibliographic Citation
OLLER, F. MiFID II – Analysis of Selected Issues Arising from the New Regulatory Package. Societas et iurisprudentia [online]. 2016, vol. 4, no. 2, pp. 111-141 [cit. 2020-01-01]. ISSN 1339-5467. Available at: http://sei.iuridica.truni.sk/international-scientific-journal/archive/issue-2016-02/mifid-ii-analysis-of-selected-issues-arising-from-the-new-regulatory-package/.