Full Text of Paper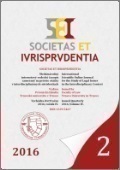 Read paper (PDF)
---
Source Type: Journal
Document Type: Study
Document Language: English
Published on: 30. 6. 2016
File Format: PDF
File Size: 669 kB
Helena Barancová
In: Societas et iurisprudentia • 2016 • Volume 4 • Issue 2 • Pages 23-37 • ISSN 1339-5467
Abstract: New technologies significantly influence the further development of labour law. Their application in practice provides not only the positive effects but also new social and legal risks. Specifically, the application of the latest technology often leads to unjustified interference with employee's rights to privacy. Therefore, in the foreseeable future there will be needed, more than ever, to ensure social and legal protection of employees. Forms of an unjustified interference with the employee's privacy by the employer are various. It is particularly monitoring of employees using video cameras, e-mail monitoring, and telephone tapping. More recently, there disseminate new forms of the employer's infringement in the sphere of the employee's private life, e.g. through the method of mystery shopping. It is a form of verification of the adequacy of the employee's communication with clients. This type of monitoring is realized by various agencies which offer such paid services to employers. New technologies affect also the existing legal model of motherhood and parenthood, as the surrogacy motherhood but also in vitro fertilization are more and more popular. In the main part of the study the author deals with the possibilities of legally correct interference with the right to private life of an employee while respecting the principles of legality, legitimacy, and proportionality.
Key Words: Basic Human Rights; Protection of the Employee's Privacy; the Employee's Right to Private Life; the Employee's Workplace; Decision-making Activities of the European Court of Human Rights; Monitoring of Employees; Video Cameras; E-mail Monitoring, Mystery Shopping; New Social Risks in the Workplace; Legitimacy of Interference with the Right to Private Life; Principle of Legality, Legitimacy, and Proportionality; the Slovak Republic.
URL: http://sei.iuridica.truni.sk/archive/2016/02/SEI-2016-02-Studies-Barancova-Helena.pdf
Bibliographic Citation
BARANCOVÁ, H. New Technologies in the Field of Labour Law and Protection of Employees. Societas et iurisprudentia [online]. 2016, vol. 4, no. 2, pp. 23-37 [cit. 2020-01-01]. ISSN 1339-5467. Available at: http://sei.iuridica.truni.sk/international-scientific-journal/archive/issue-2016-02/new-technologies-in-the-field-of-labour-law-and-protection-of-employees/.