Full Text of Paper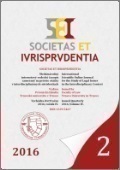 Read paper (PDF)
---
Source Type: Journal
Document Type: Study
Document Language: Russian
Published on: 30. 6. 2016
File Format: PDF
File Size: 730 kB
Igor Ivanovich Babin
In: Societas et iurisprudentia • 2016 • Volume 4 • Issue 2 • Pages 38-53 • ISSN 1339-5467
Abstract: Systematization and codification of the tax legislation is an important stage of its development. The aim of codification is not just a collection of the tax legislation into a single legislative act, but the coordination and development of unified fiscal and legal terms, the elimination of gaps and conflicts in the legal regulation. An important element of such codification is the account of the positive experience of foreign countries and scientific researchers. The paper shows the development of the category of "tax obligation" in the financial and legal sciences and tax legislation. The relationships of such categories as the tax obligation and tax duty are analysed. The interrelation of the tax obligation and tax relationship is revealed. The dynamics of the tax obligation is investigated.
Key Words: Tax Law; Tax Legislation; Tax Obligation; Tax Duty; Tax Relationship; Ukraine.
URL: http://sei.iuridica.truni.sk/archive/2016/02/SEI-2016-02-Studies-Babin-Igor-Ivanovich.pdf
Bibliographic Citation
BABIN, I. I. Налоговое обязательство как категория налогового права. Societas et iurisprudentia [online]. 2016, vol. 4, no. 2, pp. 38-53 [cit. 2020-01-01]. ISSN 1339-5467. Available at: http://sei.iuridica.truni.sk/international-scientific-journal/archive/issue-2016-02/tax-obligation-as-a-category-of-tax-law/.