Full Text of Paper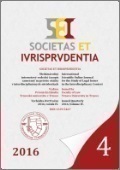 Read paper (PDF)
---
Source Type: Journal
Document Type: Study
Document Language: Czech
Published on: 31. 12. 2016
File Format: PDF
File Size: 645 kB
Martin Štefko
In: Societas et iurisprudentia • 2016 • Volume 4 • Issue 4 • Pages 77-90 • ISSN 1339-5467
Abstract: The paper focuses on the fundamental weaknesses of the existing public pension insurance regulations for recording the pension insurance relevant data. There is nothing like accrued rights of the Czech beneficiaries in reality. Despite huge progress as well as enhanced software and hardware achievements of pension insurance carriers, the Czech pension insurance contributors have non-transparent virtual pension rights of unclear content throughout much of their economic life.
Key Words: Pension Insurance; Pension Insurance Premature Data Information; Pension Rights; the Czech Republic.
URL: http://sei.iuridica.truni.sk/archive/2016/04/SEI-2016-04-Studies-Stefko-Martin.pdf
Bibliographic Citation
ŠTEFKO, M. Za posílení práv pojištěnců českého důchodového pojištění s přihlédnutím k rozvoji hardwarového a softwarového vybavení nositele pojištění. Societas et iurisprudentia [online]. 2016, vol. 4, no. 4, pp. 77-90 [cit. 2020-01-01]. ISSN 1339-5467. Available at: http://sei.iuridica.truni.sk/international-scientific-journal/archive/issue-2016-04/for-enhanced-rights-of-beneficiaries-with-regard-to-hardware-and-software-progress-of-the-czech-social-security-administration/.