Full Text of Paper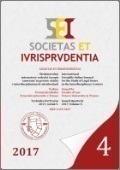 Read paper (PDF)
---
Source Type: Journal
Document Type: Study
Document Language: Russian
Published on: 31. 12. 2017
File Format: PDF
File Size: 746 kB
Oleksandr Romanovich Kovalyshyn
In: Societas et iurisprudentia • 2017 • Volume 5 • Issue 4 • Pages 23-41 • ISSN 1339-5467
Abstract: Systematic misbehaviour by businessmen and corporate entities is rather often. While Enron and WorldCom were the battle cries for corporate reform in the United States of America, so it was with Ahold and Parmalat across Europe. No country is immune from the fact that company officers may misbehave, injuring investors, consumers and destroying shareholder capital. Derivative action is a kind of lawsuit to prevent these violations. Derivative suit is a lawsuit brought by a corporation (JSC or LLC) shareholder against the directors, management or other shareholders of the corporation for a failure by management. This type of suit often arises when there is mismanagement, self-dealing, fraud or dishonesty which are ignored by the officers and the Board of Directors of a corporation. Derivative action is more and more spread in Europe. One of the legal sources for its implementation is the European Shareholders' Rights Directive. The Shareholders' Rights Directive 2007/36/EC sets out the minimum requirements relating to the holding of meetings in the European Union, where it is shareholders holding shares in companies on a regulated market. There are also several others that regulate the procedure of litigation. Ukraine isn't a pioneer of the derivative suit implementation. But not long ago it was implemented also in the Ukrainian legislation. This scientific paper reveals the legal basis of its functioning as well as the position of the Ukrainian scientists.
Key Words: Derivative Suit; Shareholders' Minority Rights; Protection of Investors; Capital Companies; Comparison of Derivative Suits; Ukraine.
URL: http://sei.iuridica.truni.sk/archive/2017/04/SEI-2017-04-Studies-Kovalyshyn-Oleksandr-Romanovich.pdf
Bibliographic Citation
KOVALYSHYN, O. R. Непрямой иск: зарубежный опыт и перспективы имплементации в Украине. Societas et iurisprudentia [online]. 2017, vol. 5, no. 4, pp. 23-41 [cit. 2020-01-01]. ISSN 1339-5467. Available at: http://sei.iuridica.truni.sk/international-scientific-journal/archive/issue-2017-04/derivative-suit-indirect-action-foreign-experience-and-prospects-of-its-implementation-in-ukraine/.