Full Text of Paper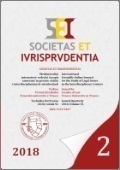 Read paper (PDF)
---
Source Type: Journal
Document Type: Study
Document Language: Slovak
Published on: 30. 6. 2018
File Format: PDF
File Size: 695 kB
Marianna Novotná
In: Societas et iurisprudentia • 2018 • Volume 6 • Issue 2 • Pages 58-71 • ISSN 1339-5467
Abstract: Liability legal relations arising between the operator of the lodging services and his/her guests the subject of which are the guests' belongings brought to the lodging facility belong also thanks to their deep historic roots of regulation to the legal institutes enjoying their firm position in the modern obligation regulations de lege lata, however, abstracting from the initiatives of the European tort soft law, also to the legal institutes which do not lack their current nature, even de lege ferenda. The paper addresses the legal, economic and social factors forming the character and the fundamentals of the innkeepers' liability which have been subject to specific historical circumstances and development of social relations in general as well as the verification of their justifiability within the current social relations.
Key Words: Tort Law; Liability for Damage; Innkeepers' Liability; Hotel-keepers' Liability; Social Factors; Harmonisation of Tort Law.
URL: http://sei.iuridica.truni.sk/archive/2018/02/SEI-2018-02-Studies-Novotna-Marianna.pdf
Bibliographic Citation
NOVOTNÁ, M. Sociálno-historické dôvody ustálenia inštitútu zodpovednosti "hostinských" a jeho súčasný právnopolitický a ekonomický kontext existencie. Societas et iurisprudentia [online]. 2018, vol. 6, no. 2, pp. 58-71 [cit. 2020-01-01]. ISSN 1339-5467. Available at: http://sei.iuridica.truni.sk/international-scientific-journal/archive/issue-2018-02/socio-historical-factors-for-establishing-the-institute-of-innkeepers-liability-and-its-current-legal-and-economic-context-of-existence/.