Full Text of Paper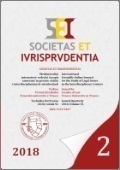 Read paper (PDF)
---
Source Type: Journal
Document Type: Study
Document Language: English
Published on: 30. 6. 2018
File Format: PDF
File Size: 657 kB
Jakub Tomšej
In: Societas et iurisprudentia • 2018 • Volume 6 • Issue 2 • Pages 72-84 • ISSN 1339-5467
Abstract: The paper contains reflections of the author on the Czech labour market and on diverse aspects of the Czech legal regulation of working abroad. The Czech Republic stands in a versatile position of both a "sending" and a "receiving" country in terms of movement of workers and it has its historical experience with migration. The author summarises arguments for creating an open and competitive labour environment. An analysis of the applicable legal regulation, however, shows that these arguments may not have been heard by the Czech lawmakers. In case of the non-European Union/European Economic Area workers, the applicable laws and processes create unnecessary hurdles for obtaining a work permit and performing work within the territory of the Czech Republic. The author debates the current legal regulation of the employee card and proposes measures to make the system more accessible for applicants.
Key Words: Labour Law; Immigration; Employment of Foreigners; Work Permit; Employee Card; the Czech Republic.
URL: http://sei.iuridica.truni.sk/archive/2018/02/SEI-2018-02-Studies-Tomsej-Jakub.pdf
Bibliographic Citation
TOMŠEJ, J. The Czech Republic and Movement of Workers: A Missed Opportunity?. Societas et iurisprudentia [online]. 2018, vol. 6, no. 2, pp. 72-84 [cit. 2020-01-01]. ISSN 1339-5467. Available at: http://sei.iuridica.truni.sk/international-scientific-journal/archive/issue-2018-02/the-czech-republic-and-movement-of-workers-a-missed-opportunity/.