Full Text of Paper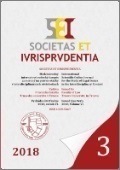 Read paper (PDF)
---
Source Type: Journal
Document Type: Study
Document Language: Slovak
Published on: 30. 9. 2018
File Format: PDF
File Size: 720 kB
Miloš Lacko
In: Societas et iurisprudentia • 2018 • Volume 6 • Issue 3 • Pages 63-82 • ISSN 1339-5467
Abstract: Old-age pension savings is a system functionally linked to the general pension insurance scheme which focuses on the capitalization of savings accumulated by the savers in their personal pension accounts. From the administrative-procedural point of view, the pre-contractual part of the pay-out phase of this system is built on the Central Information Bidding System which is thus an important and systemic element of the old-age pension savings. The presented paper analyses the tasks and objectives of this information system in the pay-out phase of pensions and, at the same time, asks the question whether it fulfils the functions of current modern information systems and whether it thus assists in securing the constitutional right of a natural person to an adequate material security in the old age or, on the contrary, it is only an information system that duplicates the rules and approaches introduced by the legislation providing for the method of the savings in the Slovak pension model (by the individualisation of savings with a low economic guarantee) and, especially, in the process of concluding a contract on the pension insurance that does not support the implementation of the constitutional law in a serious way.
Key Words: Social Security Law; Material Security in Old Age; Old-age Pension Savings; Pension Insurance Contract; Bid for Life-long/Temporary Old-age Pension; Bid for Life-long/Temporary Early Retirement; Agreement on Pension Payment by Programmed Withdrawal; the Slovak Republic.
URL: http://sei.iuridica.truni.sk/archive/2018/03/SEI-2018-03-Studies-Lacko-Milos.pdf
Bibliographic Citation
LACKO, M. Informačný ponukový systém starobného dôchodkového sporenia. Societas et iurisprudentia [online]. 2018, vol. 6, no. 3, pp. 63-82 [cit. 2020-01-01]. ISSN 1339-5467. Available at: http://sei.iuridica.truni.sk/international-scientific-journal/archive/issue-2018-03/information-bidding-system-for-old-age-pension-savings/.