Full Text of Paper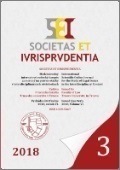 Read paper (PDF)
---
Source Type: Journal
Document Type: Study
Document Language: Slovak
Published on: 30. 9. 2018
File Format: PDF
File Size: 752 kB
Juraj Jankuv
In: Societas et iurisprudentia • 2018 • Volume 6 • Issue 3 • Pages 36-62 • ISSN 1339-5467
Abstract: The aim of the presented study is to analyse the status of the European Union law rules in the framework of the Slovak constitutional law and other relevant legal regulation. As a theoretical basis for this analysis, our study includes also an concise overview of the existing legal regulation of the relation of the international public law like a source of the European Union law and municipal law and the relation of the European Union law itself and municipal law as well as an analysis of the existing theories of the relationship between the international law and municipal law as a basis for the application of the rules of the European Union law, existing ways and institutes by which the States guarantee the fulfilment of their undertakings of the European Union law, including a general view on the issue of the national reception rules and rules governing the relationship between the European Union law and municipal law.
Key Words: International Public Law; Constitutional Law; European Union Law; Relation of the European Union Law and Municipal Law; the European Union, the Slovak Republic.
URL: http://sei.iuridica.truni.sk/archive/2018/03/SEI-2018-03-Studies-Jankuv-Juraj.pdf
Bibliographic Citation
JANKUV, J. Postavenie noriem práva Európskej únie v rámci ústavného práva a ostatnej právnej úpravy Slovenskej republiky. Societas et iurisprudentia [online]. 2018, vol. 6, no. 3, pp. 36-62 [cit. 2020-01-01]. ISSN 1339-5467. Available at: http://sei.iuridica.truni.sk/international-scientific-journal/archive/issue-2018-03/position-of-rules-of-the-european-union-law-in-framework-of-the-constitutional-law-and-other-legal-regulation-of-the-slovak-republic/.