Full Text of Paper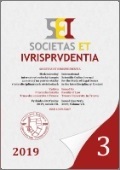 Read paper (PDF)
---
Source Type: Journal
Document Type: Study
Document Language: Slovak
Published on: 30. 9. 2019
File Format: PDF
File Size: 663 kB
Silvia Treľová
In: Societas et iurisprudentia • 2019 • Volume 7 • Issue 3 • Pages 92-104 • ISSN 1339-5467
Abstract: The possibility of teleworking is based on a contractual basis. This flexible work model has its advantages and the work done in this form is characterised by efficiency. The trend to work from home is increasing; it concerns different categories of employees and keeps expanding to other professions. The author outlines in her paper the legal aspect of the definition of telework and points out the problems of current application practice.
Key Words: Labour Law; Labour Code; Telework; Information and Communication Technologies; Working Time; the Slovak Republic.
URL: http://sei.iuridica.truni.sk/archive/2019/03/SEI-2019-03-Studies-Trelova-Silvia.pdf
Bibliographic Citation
TREĽOVÁ, S. Telepráca ako forma organizácie práce. Societas et iurisprudentia [online]. 2019, vol. 7, no. 3, pp. 92-104 [cit. 2020-01-01]. ISSN 1339-5467. Available at: http://sei.iuridica.truni.sk/international-scientific-journal/archive/issue-2019-03/telework-as-a-form-of-work-organization/.