Full Text of Paper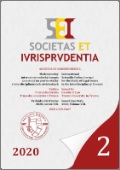 Read paper (PDF)
---
Source Type: Journal
Document Type: Study
Document Language: Czech
Published on: 30. 6. 2020
File Format: PDF
File Size: 636 kB
Martin Štefko
In: Societas et iurisprudentia • 2020 • Volume 8 • Issue 2 • Pages 19-31 • ISSN 1339-5467
Abstract: In year 2017, the Czech Act on Administrative Liability prolonged a period within which administrative agencies must bring a claim against a defendant. Said Act was the so-called ex post facto law, i.e. a law that retroactively changes the rules of procedure in force at the time an alleged administrative tort was committed in a way substantially disadvantageous to the accused. The Act on Administrative Liability was challenged in the Constitutional Court of the Czech Republic which quashed the respective disputed paragraph of the above-stated Act. The retroactively prolonged timeframe violated a policy-based reason that a defendant should not have the threat of being sued for longer period of time than set forth in the law applicable at the time when the tort was committed. The competent state agency should have an incentive to bring claims as soon as possible.
Key Words: Administrative Law; Administrative Tort; True Retroactivity; False Retroactivity; True Retroactive Effect; Liability; Limitation of Liability; Limitation Period; the Czech Republic.
ORCID:

https://orcid.org/0000-0003-1060-6682
DOI: https://doi.org/10.31262/1339-5467/2020/8/2/19-31
URL: http://sei.iuridica.truni.sk/archive/2020/02/SEI-2020-02-Studies-Stefko-Martin.pdf
Bibliographic Citation
ŠTEFKO, M. Ústavní zákaz protahování promlčení odpovědnosti zaměstnavatele za přestupek. Societas et iurisprudentia [online]. 2020, vol. 8, no. 2, pp. 19-31 [cit. 2020-01-01]. ISSN 1339-5467. Available at: https://doi.org/10.31262/1339-5467/2020/8/2/19-31.