Full Text of Paper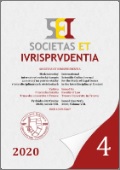 Read paper (PDF)
---
Source Type: Journal
Document Type: Study
Document Language: Slovak
Published on: 31. 12. 2020
File Format: PDF
File Size: 757 kB
Viktor Križan
In: Societas et iurisprudentia • 2020 • Volume 8 • Issue 4 • Pages 67-84 • ISSN 1339-5467
Abstract: The presented paper deals with labour law aspects of the area-wide testing for the COVID-19 disease in the Slovak Republic, from the point of view of persons who performed work as members of the testing team. Although the issue of testing can also be viewed from the perspective of an employee who (did not) participate in the testing, it would already be spent on a separate paper. The author concludes that without violating and circumventing the labour law provisions, respectively in compliance with the agreed arrangements, it was not possible to perform the activity of a member of the testing team. During the testing, the shortcomings of the legal regulation of casual work in the Slovak Republic became apparent, to which it is necessary to respond by regulating casual work, which will provide the right balance of flexibility and social protection.
Key Words: Labour Law; Worker; Work Performance Agreement; Contract on Performance of Voluntary Activities; COVID-19; Nationwide Testing; Testing Team; the Slovak Republic.
Web of Science ResearcherID: N-2209-2015
ORCID:

https://orcid.org/0000-0003-3184-4647
DOI: https://doi.org/10.31262/1339-5467/2020/8/4/67-84
URL: http://sei.iuridica.truni.sk/archive/2020/04/SEI-2020-04-Studies-Krizan-Viktor.pdf
Bibliographic Citation
KRIŽAN, V. Pracovnoprávne aspekty plošného testovania na ochorenie COVID-19 v Slovenskej republike (z pohľadu člena testovacieho tímu). Societas et iurisprudentia [online]. 2020, vol. 8, no. 4, pp. 67-84 [cit. 2020-01-01]. ISSN 1339-5467. Available at: https://doi.org/10.31262/1339-5467/2020/8/4/67-84.