Miroslava Vráblová
Full Text of Paper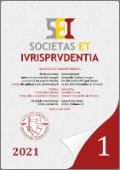 Read paper (PDF)
---
Source Type: Journal
Document Type: Study
Document Language: Slovak
Published on: 31. 3. 2021
File Format: PDF
File Size: 872 kB
In: Societas et iurisprudentia • 2021 • Volume 9 • Issue 1 • Pages 91-106 • ISSN 1339-5467
Abstract: The paper deals with the impact of the coronavirus pandemics on crime in the Slovak Republic. Restrictive measures applied during the corona crisis have significantly affected the daily lives of citizens. Changes of lifestyle, reduced mobility of citizens have also affected the rate of crime. In the first phase of the corona crisis, we recorded an increase in property crime (+0.6 %), especially burglary in shops, warehouses, schools, weekend cottages, bicycle thefts, and further increase in violent crime (+0.8 %), especially domestic violence, dangerous threats, violence against public officials and suicides. In the second phase of the corona crisis, there was an increase in sexual crime (+9.7 %), especially sexual abuse and production, distribution and possession of child pornography. On the other hand, during the corona crisis, there was a decrease in burglaries into houses and flats, murders, robberies, traffic accidents. Crimes committed during the coronavirus pandemics have changed. The structure of crime and the ways of committing crime have changed.
Key Words: Criminal Law; Corona Crisis; COVID-19 Pandemics; Crime; Restrictive Measures; Theft; Robbery; Domestic Violence; Fraud; Drug Crime; Sexual Abuse; Analysis; the Slovak Republic.
ORCID:

https://orcid.org/0000-0003-0005-6592
DOI: https://doi.org/10.31262/1339-5467/2021/9/1/91-106
URL: http://sei.iuridica.truni.sk/archive/2021/01/SEI-2021-01-Studies-Vrablova-Miroslava.pdf
Bibliographic Citation
VRÁBLOVÁ, M. Koronakríza a jej dopad na kriminalitu v Slovenskej republike. Societas et iurisprudentia [online]. 2021, vol. 9, no. 1, pp. 91-106 [cit. 2020-01-01]. ISSN 1339-5467. Available at: https://doi.org/10.31262/1339-5467/2021/9/1/91-106.