Peter Varga
Full Text of Paper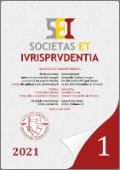 Read paper (PDF)
---
Source Type: Journal
Document Type: Study
Document Language: Slovak
Published on: 31. 3. 2021
File Format: PDF
File Size: 762 kB
In: Societas et iurisprudentia • 2021 • Volume 9 • Issue 1 • Pages 69-90 • ISSN 1339-5467
Abstract: The paper deals with the principle of the indirect effect of the European Union law and its application by the competent authorities in the European Union Member States. It analyses the most important judgments of the Court of Justice of the European Union, from which it draws conclusions regarding the manner in which the indirect effect is applied by the competent national authorities, in particular the courts. The obligation to interpret the national law in conformity with the European Union law applies to all authorities in the Member State, including the courts. A national court, when hearing a case between individuals, is required, when applying the provisions of the domestic law adopted for the purpose of transposing obligations laid down by a directive, to consider the whole body of rules of the national law and to interpret them, so far as possible, in the light of the wording and purpose of the directive in order to achieve an outcome consistent with the objective pursued by the directive. The indirect effect follows the same aim as the direct effect, however, in an indirect way – by interpretation of the national law (and not application of the European Union law). The conclusions are important for the Slovak judiciary, as the application of the indirect effect also has an impact on the settled case law of the Slovak courts, which may lead to the acknowledgement of claims for non-pecuniary damage to secondary victims, which is currently the subject of interest of the Slovak court practice.
Key Words: European Union Law; Case Law; Direct Effect; Indirect Effect; Vertical Direct Effect; Horizontal Direct Effect; Court of Justice of the European Union; the European Union; the Slovak Republic.
ORCID:

https://orcid.org/0000-0003-4252-6134
DOI: https://doi.org/10.31262/1339-5467/2021/9/1/69-90
URL: http://sei.iuridica.truni.sk/archive/2021/01/SEI-2021-01-Studies-Varga-Peter.pdf
Bibliographic Citation
VARGA, P. Nepriamy účinok práva Európskej únie v judikatúre Súdneho dvora Európskej únie. Societas et iurisprudentia [online]. 2021, vol. 9, no. 1, pp. 69-90 [cit. 2020-01-01]. ISSN 1339-5467. Available at: https://doi.org/10.31262/1339-5467/2021/9/1/69-90.