Miloš Lacko
Full Text of Paper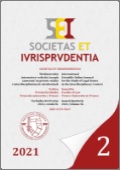 Read paper (PDF)
---
Source Type: Journal
Document Type: Study
Document Language: Slovak
Published on: 30. 6. 2021
File Format: PDF
File Size: 786 kB
In: Societas et iurisprudentia • 2021 • Volume 9 • Issue 2 • Pages 86-113 • ISSN 1339-5467
Abstract: The exercise of freedom of movement within the European Union Member States also requires interventions in the national social security systems, the organization and exercise of which fall within the exclusive competence of the Member States. In order to fully exercise, in particular, the freedom of movement of persons, in particular persons engaged in gainful employment, it is necessary to lay down in the Union law procedures for resolving conflicts in the provision of family benefits. Collisions in the granting of family benefits generally arise when a person enjoying the free movement of persons moves to another Member State, while another family member (in particular the second parent or the dependent child) remains in the home Member State or moves to another Member State. In such situations, the Union legislation must provide the migrant with the same conditions for family benefits as a national of the Member State in which the migrant is present, so the Union legislation seeks to ensure an equal treatment of a person enjoying this freedom in the event of such a conflict with national social security systems. The subject of the paper is an analysis of the European Union coordination regulation determining the relevant social security system of an European Union Member State for the provision of family benefits so as not to disadvantage the migrant as a family member in acquiring and providing these benefits and, conversely, that this person does not get into unjustified social advantage in the provision of family benefits, i.e. that there is no unjustified overlapping of the provision of a family benefit for the same purpose to the same family member.
Key Words: Social Security Law; Family Benefit; Member of the Family; Priority Rules in the Event of Overlapping of Family Benefits; Differential Supplement; the European Union Member State Primarily Responsible for Paying the Benefit; the European Union.
ORCID:

https://orcid.org/0000-0002-8183-1820
DOI: https://doi.org/10.31262/1339-5467/2021/9/2/86-113
URL: http://sei.iuridica.truni.sk/archive/2021/02/SEI-2021-02-Studies-Lacko-Milos.pdf
Bibliographic Citation
LACKO, M. Cezhraničná koordinácia v oblasti rodinných dávok. Societas et iurisprudentia [online]. 2021, vol. 9, no. 2, pp. 86-113 [cit. 2020-01-01]. ISSN 1339-5467. Available at: https://doi.org/10.31262/1339-5467/2021/9/2/86-113.