Martina Kováčiková
Full Text of Paper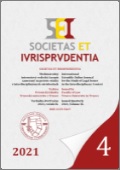 Read paper (PDF)
---
Source Type: Journal
Document Type: Study
Document Language: Slovak
Published on: 31. 12. 2021
File Format: PDF
File Size: 683 kB
In: Societas et iurisprudentia • 2021 • Volume 9 • Issue 4 • Pages 102-117 • ISSN 1339-5467
Abstract: The paper focuses on bringing the issue of alimony benefit in the law of the Slovak Republic in the context of the latest amendment to the legislation in question. In the paper, we deal with the current legal regulation of alimony benefit; subsequently we pay our attention to the amendment to the Act No. 201/2008 Coll. on Substitute Alimony and on Amendments to the Act No. 36/2005 Coll. on the Family and on Amendments to Certain Acts, as amended by the Judgment of the Constitutional Court of the Slovak Republic No. 615/2006 Coll., as amended, effective from January 1, 2022. In the paper, we also discuss the pros and cons of the change in question. We draw information mainly from the effective legal regulation of the given issue and from the approved wording of the above-mentioned amendment to the basic legislation in question.
Key Words: Social Security Law; Alimony Benefit; Failure to Fulfil Maintenance Obligations; Execution to Recover Maintenance Claim; the Slovak Republic.
ORCID:

https://orcid.org/0000-0003-3295-7942
DOI: https://doi.org/10.31262/1339-5467/2021/9/4/102-117
URL: http://sei.iuridica.truni.sk/archive/2021/04/SEI-2021-04-Studies-Kovacikova-Martina.pdf
Bibliographic Citation
KOVÁČIKOVÁ, M. Náhradné výživné v kontexte novely zákona č. 489/2021 Z.z. Societas et iurisprudentia [online]. 2021, vol. 9, no. 4, pp. 102-117 [cit. 2020-01-01]. ISSN 1339-5467. Available at: https://doi.org/10.31262/1339-5467/2021/9/4/102-117.