Viktória Koľveková
Full Text of Paper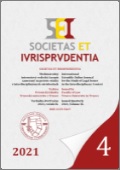 Read paper (PDF)
---
Source Type: Journal
Document Type: Study
Document Language: Slovak
Published on: 31. 12. 2021
File Format: PDF
File Size: 710 kB
In: Societas et iurisprudentia • 2021 • Volume 9 • Issue 4 • Pages 79-101 • ISSN 1339-5467
Abstract: Judicial concentration of proceedings can be considered a sanction institute of the currently standardized civil dispute process in the conditions of the Slovak Republic. The possibility of its application by the court encourages the disputing parties to apply the means of procedural attack and procedural defense in a timely manner (with regard to the speed of proceedings and procedural economy), under the threat of disregarding delayed procedural acts. The liability of the parties to the dispute for the outcome of proceedings, with regard to the degree of their procedural diligence, has been raised to the level of a decisive factor in achieving a fair settlement of the dispute by the court. The essence of the paper is to define the impact of the procedural activity and the impact of the application of judicial concentration of proceedings on proving, which we consider to be the central stage of the litigation process, with regard to the scope and content of the evidentiary process.
Key Words: Civil Law; Proving; Judicial Concentration of Proceedings; Civil Dispute Process; the Code of Civil Contentious Procedure; the Slovak Republic.
ORCID:

https://orcid.org/0000-0001-9617-7713
DOI: https://doi.org/10.31262/1339-5467/2021/9/4/79-101
URL: http://sei.iuridica.truni.sk/archive/2021/04/SEI-2021-04-Studies-Kolvekova-Viktoria.pdf
Bibliographic Citation
KOĽVEKOVÁ, V. Vplyv procesnej aktivity sporových strán a uplatňovania sudcovskej koncentrácie konania na dokazovanie v civilnom sporovom konaní. Societas et iurisprudentia [online]. 2021, vol. 9, no. 4, pp. 79-101 [cit. 2020-01-01]. ISSN 1339-5467. Available at: https://doi.org/10.31262/1339-5467/2021/9/4/79-101.