Gabriela Halířová
Full Text of Paper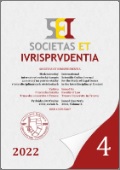 Read paper (PDF)
---
Source Type: Journal
Document Type: Study
Document Language: Czech
Published on: 31. 12. 2022
File Format: PDF
File Size: 661 kB
In: Societas et iurisprudentia • 2022 • Volume 10 • Issue 4 • Pages 55-70 • ISSN 1339-5467
Abstract: The paper deals with one of the core benefits of the state social support in the Czech Republic, the housing allowance. As of year 2022, the range of persons entitled to the housing allowance was expanded and the rules for the formation of the entitlement to it have been modified in the context of the rise in energy prices. The study aims to analyse the new conditions for entitlement to the housing allowance and the individual stages of the proceedings for granting the housing allowance (initiation of the proceedings, application requirements, forms of decision-making on the allowance, possibilities of reviewing the individual forms of decisions). The various aspects of the housing allowance and the decision-making (proceedings) for granting it are approximated in selected decisions of the Czech administrative courts.
Key Words: Social Security Law; Housing Allowance; Housing Costs; Other Forms of Housing; Employment Office; Administrative Proceedings; Written Notice; Objections; Decisions of Administrative Courts; the Czech Republic.
ORCID:

https://orcid.org/0000-0002-2284-594X
DOI: https://doi.org/10.31262/1339-5467/2022/10/4/55-70
URL: http://sei.iuridica.truni.sk/archive/2022/04/SEI-2022-04-Studies-Halirova-Gabriela.pdf
Bibliographic Citation
HALÍŘOVÁ, G. Příspěvek na bydlení: nové podmínky nároku a rozhodování o jeho přiznání s reflexí judikatury správních soudů. Societas et iurisprudentia [online]. 2022, vol. 10, no. 4, pp. 55-70 [cit. 2020-01-01]. ISSN 1339-5467. Available at: https://doi.org/10.31262/1339-5467/2022/10/4/55-70.