Małgorzata Grześków
Full Text of Paper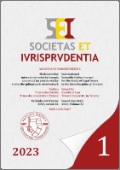 Read paper (PDF)
---
Source Type: Journal
Document Type: Study
Document Language: English
Published on: 31. 3. 2023
File Format: PDF
File Size: 701 kB
In: Societas et iurisprudentia • 2023 • Volume 11 • Issue 1 • Pages 67-88 • ISSN 1339-5467
Abstract: This paper presents the legal situation of whistleblowers employed as professional soldiers and officers of militarized services in Poland. The starting point of the study is to show the specific nature of employment in the services and to identify the risks that can occur in these organizations. The paper critically analyses the international and European Union solutions that do not regulate in any special way the protection of whistleblowers employed as soldiers and officers. The study also points out the lack of adequate protection at the level of the Polish domestic law. At the same time, it is noted that the ongoing work to implement the Directive (EU) 2019/1937 of the European Parliament and of the Council on the Protection of Whistleblowers does not seem to be moving in the direction of increasing this protection. The study also shows significant differences in solutions for the protection of whistleblowers at the national level, which may be due to the cultural and historical conditions.
Key Words: Labour Law; Whistleblower; Whistleblower Protection; Soldiers; Officers; Militarized Services; the European Union; Poland.
ORCID:

https://orcid.org/0000-0002-8449-898X
DOI: https://doi.org/10.31262/1339-5467/2023/11/1/67-88
URL: http://sei.iuridica.truni.sk/archive/2023/01/SEI-2023-01-Studies-Grzeskow-Malgorzata.pdf
Bibliographic Citation
GRZEŚKÓW, M. Whistleblower Protection in Poland – Analysis of the Situation of Polish Officers and Professional Soldiers. Societas et iurisprudentia [online]. 2023, vol. 11, no. 1, pp. 67-88 [cit. 2020-01-01]. ISSN 1339-5467. Available at: https://doi.org/10.31262/1339-5467/2023/11/1/67-88.