Full Text of Paper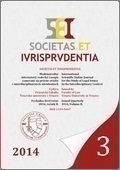 Read paper (PDF)
---
Source Type: Journal
Document Type: Study
Document Language: Slovak
Published on: 30. 9. 2014
File Format: PDF
File Size: 767 kB
Andrea Gregušová
In: Societas et iurisprudentia • 2014 • Volume 2 • Issue 3 • Pages 124-143 • ISSN 1339-5467
Abstract: The true criminal liability of legal entities, which could be incorporated into the Slovak Republic legislation, is once again a current topic. Forthcoming legislation, made by the Ministry of Justice of the Slovak Republic, is heading to change the currently effective legislation based on the concept of fictitious criminal liability of legal entities. In this study the author analyzes the substantive provisions of the forthcoming legislation and also brings point of view on the most fundamental changes for the Slovak criminal law, which are connected with forthcoming legislation. The paper also deals with issues of creating of new legislation resulting from the currently considering comments from the inter-ministerial review, which was completed on August 5th, 2014.
Key Words: Criminal Liability; Legal Entity; Principle of Legal Entity's Criminal Liability; Legal Successor of a Legal Entity; Offenses of Legal Entities; Sanctions; Punishments; the Slovak Republic.
URL: https://sei.iuridica.truni.sk/archive/2014/03/SEI-2014-03-Studies-Gregusova-Andrea.pdf
Bibliographic Citation
GREGUŠOVÁ, A. K aktuálnym problémom trestnej zodpovednosti právnických osôb v podmienkach Slovenskej republiky. Societas et iurisprudentia [online]. 2014, vol. 2, no. 3, pp. 124-143 [cit. 2020-01-01]. ISSN 1339-5467. Available at: https://sei.iuridica.truni.sk/international-scientific-journal/archive/issue-2014-03/current-issues-of-criminal-liability-of-legal-entities-in-the-slovak-republic/.