Full Text of Paper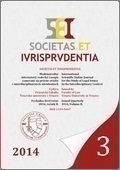 Read paper (PDF)
---
Source Type: Journal
Document Type: Study
Document Language: Slovak
Published on: 30. 9. 2014
File Format: PDF
File Size: 719 kB
Iveta Posoldová
In: Societas et iurisprudentia • 2014 • Volume 2 • Issue 3 • Pages 163-174 • ISSN 1339-5467
Abstract: Human resources management has gone through many changes in the past twenty to thirty years and therefore, it is necessary to consider it from the historical point of view. When professional public started to deal with the "human" side in the business, there was mainly an attempt to limit interventions and merge problems under one term "work with cadre". In some countries, human resources work was defined as "administrative management". In the preface, the authoress describes current changes in the perception of human workforce in businesses, provides reasons why it is necessary to approach employees as an asset. In the first part, the attention is drawn to human resources management strategy, and in the second one, she analyzes the role of a manager in human resources management. In the final part, the authoress explains how the difference between performance and output is perceived among professional public.
Key Words: Employee; Manager; Human Resources; Output; Performance; Management Strategy; Business Strategy.
URL: https://sei.iuridica.truni.sk/archive/2014/03/SEI-2014-03-Studies-Posoldova-Iveta.pdf
Bibliographic Citation
POSOLDOVÁ, I. Riadenie výkonnosti a hodnotenie pracovného výkonu. Societas et iurisprudentia [online]. 2014, vol. 2, no. 3, pp. 163-174 [cit. 2020-01-01]. ISSN 1339-5467. Available at: https://sei.iuridica.truni.sk/international-scientific-journal/archive/issue-2014-03/performance-management-and-work-performance-appraisal/.