Full Text of Paper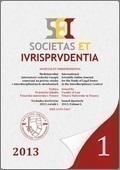 Read paper (PDF)
---
Source Type: Journal
Document Type: Study
Document Language: Slovak
Published on: 31. 12. 2013
File Format: PDF
File Size: 859 kB
Dagmar Lantajová
In: Societas et iurisprudentia • 2013 • Volume 1 • Issue 1 • Pages 133-174 • ISSN 1339-5467
Abstract: The study refers to the judicature of international bodies related to the protection of minorities, particularly Romany ethnic group. Quasi-judicial authorities in the context of universal protection of human rights as well as the European Court of Human Rights and the Court of Justice of the European Union concern this issue within their jurisdiction. In the universal protection of human rights it is particularly the Committee on the Elimination of Racial Discrimination that is monitoring the observance of the International Convention on the Elimination of All Forms of Racial Discrimination which provisions protect minorities from discrimination of racial character. The European Court of Human Rights, in the assessment of the states discriminatory conduct, mainly proceeds from the provisions of Article 14 of the European Convention on Human Rights and Fundamental Freedoms (1950) as well as Protocol No. 12 to this Convention. Under the EU law it is mainly about the compliance with Directive 2000/43/EC (20th June 2000), implementing the principle of equal treatment between persons irrespective of racial or ethnic origin. Although the number of the applications related to discrimination against the Roma (especially on the Strasbourg court) is not small, the racial discrimination has been recognised only in some cases.
Key Words: Human Rights; International Treaties; Human Rights Treaty Bodies; The Council of Europe; The European System for the Protection of Human Rights; The European Court of Human Rights; Racial Discrimination; Romany Ethnic Group; Court of Justice of the European Union; Discrimination.
URL: http://sei.iuridica.truni.sk/archive/2013/01/SEI-2013-01-Studies-Lantajova-Dagmar.pdf
Bibliographic Citation
LANTAJOVÁ, D. Judikatúra medzinárodných súdnych a kvázi súdnych orgánov v oblasti ochrany ľudských práv týkajúca sa rómskeho etnika. Societas et iurisprudentia [online]. 2013, vol. 1, no. 1, pp. 133-174 [cit. 2020-01-01]. ISSN 1339-5467. Available at: http://sei.iuridica.truni.sk/international-scientific-journal/archive/issue-2013-01/judicature-of-international-judicial-and-quasi-judicial-bodies-in-the-field-of-human-rights-related-to-romany-ethnic-group/.