Full Text of Paper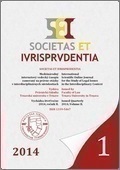 Read paper (PDF)
---
Source Type: Journal
Document Type: Study
Document Language: Slovak
Published on: 31. 3. 2014
File Format: PDF
File Size: 711 kB
Miroslava Szarková
In: Societas et iurisprudentia • 2014 • Volume 2 • Issue 1 • Pages 174-185 • ISSN 1339-5467
Abstract: The personnel marketing is a modern scientific discipline that follows the knowledge base of the management, marketing and human resource management and which is currently being developed dynamically. The following paper is a presentation of partial results of the research project VEGA 1/0053/12 concentrated on clarifying the functions of the personnel marketing at the current stage of the financial and economic crisis, which has been realized in enterprises operating in the Slovak Republic in the year 2013.
Key Words: Personnel Marketing; Functions of the Personnel Marketing; Labour Market; Work Position; Survey; the Slovak Republic.
URL: http://sei.iuridica.truni.sk/archive/2014/01/SEI-2014-01-Studies-Szarkova-Miroslava.pdf
Bibliographic Citation
SZARKOVÁ, M. Funkcie personálneho marketingu vo vnímaní podnikových manažmentov v Slovenskej republike. Societas et iurisprudentia [online]. 2014, vol. 2, no. 1, pp. 174-185 [cit. 2020-01-01]. ISSN 1339-5467. Available at: http://sei.iuridica.truni.sk/international-scientific-journal/archive/issue-2014-01/functions-of-the-personnel-marketing-in-the-perception-of-business-managements-in-the-slovak-republic/.