Full Text of Paper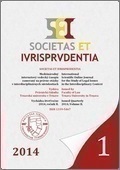 Read paper (PDF)
---
Source Type: Journal
Document Type: Study
Document Language: Slovak
Published on: 31. 3. 2014
File Format: PDF
File Size: 1410 kB
Ján Miertuš – Vanda Rísová – Miroslava Vráblová
In: Societas et iurisprudentia • 2014 • Volume 2 • Issue 1 • Pages 83-105 • ISSN 1339-5467
Abstract: Forensic genetics together with many other scientific fields connected to molecular biology and its development is currently experiencing epochal change through the introduction of high-power technologies. With reference to the literature the authors summarize the newest knowledge in the field of judicial genetics as well as some fairly interesting examples of development expected in the near future. In this context, it seems necessary to underline the importance of bio-molecular technologies as well as the importance of modelling and software processing of statistical data in the simulation of both downwards – genotype or upwards – phenotype. DNA analysis method represents a very useful instrument appropriate for identification of individuals from the forensic point of view. This is a rapidly evolving field of forensic biology. Forensic experts, however, consider genetic identification to be a complex and time-limited technological process.
Key Words: DNA Analysis Method; Downwards – Genotype; Upwards – Phenotype; Forensic Biology; Forensic Genetics; Identification of Individuals.
URL: http://sei.iuridica.truni.sk/archive/2014/01/SEI-2014-01-Studies-Miertus-Jan-Risova-Vanda-Vrablova-Miroslava.pdf
Bibliographic Citation
MIERTUŠ, J., V. RÍSOVÁ and M. VRÁBLOVÁ. Quo vadis, súdna genetika?. Societas et iurisprudentia [online]. 2014, vol. 2, no. 1, pp. 83-105 [cit. 2020-01-01]. ISSN 1339-5467. Available at: http://sei.iuridica.truni.sk/international-scientific-journal/archive/issue-2014-01/quo-vadis-forensic-genetics/.