Full Text of Paper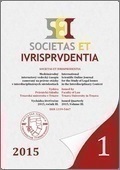 Read paper (PDF)
---
Source Type: Journal
Document Type: Study
Document Language: Slovak
Published on: 31. 3. 2015
File Format: PDF
File Size: 757 kB
Marianna Novotná
In: Societas et iurisprudentia • 2015 • Volume 3 • Issue 1 • Pages 176-197 • ISSN 1339-5467
Abstract: Regardless of the quality and coherence of the system of rules on transport of radioactive materials on the level of internationally binding agreements, eventually on the level of intrastate rules on transport, transport of nuclear materials belongs to industries in which it is not possible to exclude the probability of an accident (although no significant nuclear accident during the transport of nuclear material has been registered yet) that can lead to serious nuclear damage (injury) consequences. Therefore, it was necessary to create not only a functioning system of safety and precautionary measures, but also a following system of compensation for any prospective damage caused by the radioactive properties of the material transported. The presented study focuses on the stated compensation system which is primarily generated by the legislation in the field of international nuclear liability law that reflects the particularities of transport of nuclear materials also in relation to subsequent claims related to compensation for resulting nuclear damage. The author has tried to briefly outline the legal framework set in relation to the national and international transport of nuclear materials, with an accent laid on liability aspects of the issue and with highlighting the deficiencies, eventually controversial aspects of the regime.
Key Words: Nuclear Material; Transport of Nuclear Material; Cross-Border Transport; Liability for Nuclear Damage; Vienna Convention on Liability for Nuclear Damage; Paris Convention on Liability in the Field of Nuclear Energy.
URL: http://sei.iuridica.truni.sk/archive/2015/01/SEI-2015-01-Studies-Novotna-Marianna.pdf
Bibliographic Citation
NOVOTNÁ, M. Zodpovednostné aspekty cezhraničnej prepravy jadrového materiálu s osobitným dôrazom na "viedenský režim" jadrového práva. Societas et iurisprudentia [online]. 2015, vol. 3, no. 1, pp. 176-197 [cit. 2020-01-01]. ISSN 1339-5467. Available at: http://sei.iuridica.truni.sk/international-scientific-journal/archive/issue-2015-01/liability-aspects-of-cross-border-transport-of-nuclear-material-with-special-accent-laid-on-the-vienna-regime-in-the-field-of-nuclear-law/.