Full Text of Paper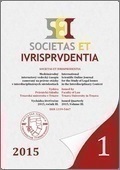 Read paper (PDF)
---
Source Type: Journal
Document Type: Study
Document Language: Slovak
Published on: 31. 3. 2015
File Format: PDF
File Size: 728 kB
Helena Barancová
In: Societas et iurisprudentia • 2015 • Volume 3 • Issue 1 • Pages 21-42 • ISSN 1339-5467
Abstract: The presented study focuses on the current issues of temporary agency work in relation to the new Slovak legislation in force. Its author specifically concentrates on the following key areas: the current situation on temporary agency work in the Slovak Republic; legal characteristics and new legal aspects; time duration of temporary employment by employee's temporary assignment; maximum length of the temporary assignment of employee, number of temporary assignments and legal consequences of non-compliance with legal requirements; the principle of equal treatment in temporary agency work; temporary employment agency as an exclusive employer; joint and several liability of using employer for payment of comparable wages; establishment of employment; new employer's termination reason for employee's redundancy; exception from offer obligation only for temporary employment agencies; staff catering; work recording of the temporarily assigned employee; termination of employment by law; agreement on termination of employment; options for further cultivating the performance of temporary agency work in accordance with the Directive 2008/104/EC; temporary agency work and case law of the Court of Justice of the European Union.
Key Words: Temporary Agency Work; Seconding Employer; Using Employer; Agency Employee; Agency Work and Principle of Equal Treatment; Exceptions to the Principle of Equal Treatment; Joint Liability of Using Employer and Seconding Employer; Directive 2008/104/EC on Temporary Agency Work; Abuse of Temporary Agency Work; the European Court of Justice Case Law on Temporary Agency Work; the European Union; the Slovak Republic.
URL: http://sei.iuridica.truni.sk/archive/2015/01/SEI-2015-01-Studies-Barancova-Helena.pdf
Bibliographic Citation
BARANCOVÁ, H. Nová právna úprava agentúrnej práce v Slovenskej republike. Societas et iurisprudentia [online]. 2015, vol. 3, no. 1, pp. 21-42 [cit. 2020-01-01]. ISSN 1339-5467. Available at: http://sei.iuridica.truni.sk/international-scientific-journal/archive/issue-2015-01/new-legislative-rules-of-agency-work-in-the-slovak-republic/.