Full Text of Paper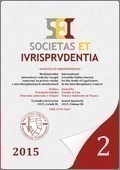 Read paper (PDF)
---
Source Type: Journal
Document Type: Study
Document Language: Slovak
Published on: 30. 6. 2015
File Format: PDF
File Size: 658 kB
Daniela Trnovcová
In: Societas et iurisprudentia • 2015 • Volume 3 • Issue 2 • Pages 136-146 • ISSN 1339-5467
Abstract: One of the fundamental assumptions for a company to work well is a good communication. Despite a good system of information exchange, problems in human relations and misunderstandings are often caused by communication problems such as communication noise or communication barriers. It is not uncommon that company managers cannot communicate well with their employees. This is shown on the external communication as well as on the communication with company owners. With regard to the deepening globalization and internationalization efforts, it is essential to inform managers as well as their employees about the new information forms, channels, tools, techniques, or technologies needed for an effective and well working communication.
Key Words: Globalization and Internationalization; Internal Communication; Traditional Communication Tools; Modern Communication Tools; Methods of Improving Internal Communication; Information Security.
URL: http://sei.iuridica.truni.sk/archive/2015/02/SEI-2015-02-Studies-Trnovcova-Daniela.pdf
Bibliographic Citation
TRNOVCOVÁ, D. Multikultúrnosť vo vnútropodnikovej komunikácii – komunikačné nástroje. Societas et iurisprudentia [online]. 2015, vol. 3, no. 2, pp. 136-146 [cit. 2020-01-01]. ISSN 1339-5467. Available at: http://sei.iuridica.truni.sk/international-scientific-journal/archive/issue-2015-02/multiculturalism-in-internal-communication-communication-tools/.