Full Text of Paper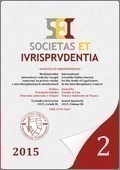 Read paper (PDF)
---
Source Type: Journal
Document Type: Study
Document Language: Slovak
Published on: 30. 6. 2015
File Format: PDF
File Size: 660 kB
Natália Matkovčíková
In: Societas et iurisprudentia • 2015 • Volume 3 • Issue 2 • Pages 120-127 • ISSN 1339-5467
Abstract: The presented paper focuses on the issue of the occupational health and safety (OHS) policy in small and medium enterprises in Slovakia. Health and safety policy is an important tool to support continuous improvement of safety and health at work in the company. Ensuring continuous development and occupational health and safety is an important factor for the economic and social development of the society. This paper presents an output solution of the grant VEGA No. 1/0053/12 – Personnel Marketing and Personnel Management in Small and Medium-Sized Enterprises in the Context of Economic Changes.
Key Words: Occupational Health and Safety (OHS); Politics of Health and Safety; Occupational Health and Safety Policy Strategy; Policy Document of Occupational Health and Safety; the Slovak Republic.
URL: http://sei.iuridica.truni.sk/archive/2015/02/SEI-2015-02-Studies-Matkovcikova-Natalia.pdf
Bibliographic Citation
MATKOVČÍKOVÁ, N. Politika bezpečnosti a ochrany zdravia pri práci v slovenských podnikoch. Societas et iurisprudentia [online]. 2015, vol. 3, no. 2, pp. 120-127 [cit. 2020-01-01]. ISSN 1339-5467. Available at: http://sei.iuridica.truni.sk/international-scientific-journal/archive/issue-2015-02/politics-of-health-and-safety-at-work-in-the-slovak-companies/.