Full Text of Paper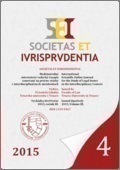 Read paper (PDF)
---
Source Type: Journal
Document Type: Essay
Document Language: Slovak
Published on: 31. 12. 2015
File Format: PDF
File Size: 643 kB
Miroslava Szarková
In: Societas et iurisprudentia • 2015 • Volume 3 • Issue 4 • Pages 128-135 • ISSN 1339-5467
Abstract: Changes in labour market that arise from the incoming new technological and economic development influence the workplace structure and also its content. Changes include mainly new technologies and new sophisticated production approaches. Changes have been materialized also into legislation amendments related to the working environment. Presented paper aims to analyse changes in the content and structure of workplaces after financial crisis. Content wise, it provides a follow-up to the current discussion in the area of personal marketing. This paper has been written within the research project VEGA 1/0662/15.
Key Words: Personal Marketing; Workplace; Classification of Workplaces; Traditional Workplaces; Atypical Workplaces.
URL: http://sei.iuridica.truni.sk/archive/2015/04/SEI-2015-04-Essays-Szarkova-Miroslava.pdf
Bibliographic Citation
SZARKOVÁ, M. Personálny marketing a pracovné miesta. Societas et iurisprudentia [online]. 2015, vol. 3, no. 4, pp. 128-135 [cit. 2020-01-01]. ISSN 1339-5467. Available at: http://sei.iuridica.truni.sk/international-scientific-journal/archive/issue-2015-04/personal-marketing-and-workplaces/.