Full Text of Paper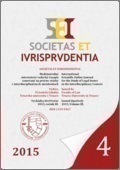 Read paper (PDF)
---
Source Type: Journal
Document Type: Study
Document Language: Czech
Published on: 31. 12. 2015
File Format: PDF
File Size: 720 kB
Soňa Harasimová
In: Societas et iurisprudentia • 2015 • Volume 3 • Issue 4 • Pages 55-68 • ISSN 1339-5467
Abstract: The paper is focused on typology of municipalities, which creates the basis for the formation of marketing of towns. The existing structure of typology identifies the main characteristics, functions, and competitive advantages of towns. When determining the typology of municipalities it usually comes from the municipality's outside environment that is formed by four basic factors. In the introduction there are described the current types of municipalities. The main objective of this paper is to enlarge the known structure through a new type which best characterizes the current preferences and needs of towns' residents. The intention is also to emphasize the changed order in importance of external factors of municipalities focusing on the environmental factor. The basis for the paper are the results of the own empirical research held in six towns of the Moravian-Silesian Region in the Czech Republic and the further analysis of the secondary statistical data.
Key Words: Marketing of Towns; Typology of Towns and Villages; External Environment of Town; Natural Factors; Environment; Competitive Advantage; Empirical Research; Analysis; the Czech Republic.
URL: http://sei.iuridica.truni.sk/archive/2015/04/SEI-2015-04-Studies-Harasimova-Sona.pdf
Bibliographic Citation
HARASIMOVÁ, S. Typologie měst a obcí jako východisko pro marketing města. Societas et iurisprudentia [online]. 2015, vol. 3, no. 4, pp. 55-68 [cit. 2020-01-01]. ISSN 1339-5467. Available at: http://sei.iuridica.truni.sk/international-scientific-journal/archive/issue-2015-04/typology-of-municipalities-as-basis-for-marketing-of-towns/.