Full Text of Paper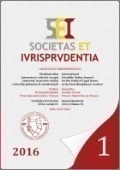 Read paper (PDF)
---
Source Type: Journal
Document Type: Study
Document Language: Slovak
Published on: 31. 3. 2016
File Format: PDF
File Size: 670 kB
Daniela Hlobíková
In: Societas et iurisprudentia • 2016 • Volume 4 • Issue 1 • Pages 104-121 • ISSN 1339-5467
Abstract: The paper deals with the impact of passage of time on secondary rights arising from breach of contractual obligation to perform his or her duty duly and in time – on interests on late payment (the claim arising ex lege) and on contractual penalty (as a security institute which may secure a timely performance of a debtor). We focus on mode of statute of limitation of secondary rights and analyse the impact of statute of limitations of primary obligation on creation and limitation of the above-mentioned secondary obligations.
Key Words: Breach of Contractual Obligations; Delay; Interests on Late Payment; Contractual Penalty; Statute of Limitations; the Slovak Republic.
URL: http://sei.iuridica.truni.sk/archive/2016/01/SEI-2016-01-Studies-Hlobikova-Daniela.pdf
Bibliographic Citation
HLOBÍKOVÁ, D. Premlčanie úrokov z omeškania a zmluvnej pokuty. Societas et iurisprudentia [online]. 2016, vol. 4, no. 1, pp. 104-121 [cit. 2020-01-01]. ISSN 1339-5467. Available at: http://sei.iuridica.truni.sk/international-scientific-journal/archive/issue-2016-01/statute-of-limitations-related-to-interests-on-late-payment-and-to-contractual-penalty/.