Full Text of Paper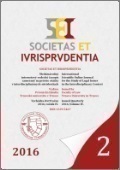 Read paper (PDF)
---
Source Type: Journal
Document Type: Study
Document Language: Slovak
Published on: 30. 6. 2016
File Format: PDF
File Size: 695 kB
Matúš Filo
In: Societas et iurisprudentia • 2016 • Volume 4 • Issue 2 • Pages 89-110 • ISSN 1339-5467
Abstract: Enacting of tax license means an important change in taxation of incomes of legal persons, because determination of minimum tax partially eliminates the possibility to avoid paying of income tax. The obligation to pay tax license differs according to conditions determined by law and the legal regulation also includes exemptions from this obligation. By enacting of the legislation of tax license of legal person the incomes of state budget increased; on the other hand, determination of minimum tax in the form of tax license influenced the establishment of business companies and resulted in cancellation of business companies which did not develop economic activities. In the paper the author analyses legislation of tax license and points out the opinions of the professional public on its amendment. The author also points out the proceeding before the Constitutional Court of the Slovak Republic in the case of compliance of the provisions of the Income Tax Act which regulate the issue of tax license with the Constitution of the Slovak Republic and the Charter of Fundamental Rights and Freedoms.
Key Words: Tax; Tax License; Tax Evasions; Income Tax Act; Legal Person; the Slovak Republic.
URL: http://sei.iuridica.truni.sk/archive/2016/02/SEI-2016-02-Studies-Filo-Matus.pdf
Bibliographic Citation
FILO, M. Daňová licencia právnickej osoby. Societas et iurisprudentia [online]. 2016, vol. 4, no. 2, pp. 89-110 [cit. 2020-01-01]. ISSN 1339-5467. Available at: http://sei.iuridica.truni.sk/international-scientific-journal/archive/issue-2016-02/tax-license-of-legal-person/.