Full Text of Paper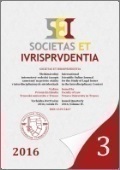 Read paper (PDF)
---
Source Type: Journal
Document Type: Study
Document Language: Czech
Published on: 30. 9. 2016
File Format: PDF
File Size: 703 kB
Marie Sciskalová – Soňa Harasimová
In: Societas et iurisprudentia • 2016 • Volume 4 • Issue 3 • Pages 165-176 • ISSN 1339-5467
Abstract: The paper is focused on perception of bribery, corruption, and corrupt behaviour of local government officials. The intention is to highlight the knowledge or ignorance of legislation related to the performance of corruption or corrupt actions. The aim of the empirical research was to found out whether officials of municipalities and regions are able to define or to recognize the basic terms of this field (theoretical part) and whether they can transfer them into practice. In the practical part of the paper selected model situations and their possible solutions are described. The partial aim of the practical part of the paper is to determine whether an individual can correctly verbally communicate with a party to the administrative proceedings, for example by committing a traffic offense and specifying his/her possible corrupt behaviour.
Key Words: Public Administration; Official; Governance; Bribe; Abuse of Official's Authority; Bribery; Corruption; Corrupt Behaviour; Ethics Code; the Czech Republic.
URL: http://sei.iuridica.truni.sk/archive/2016/03/SEI-2016-03-Studies-Sciskalova-Marie-Harasimova-Sona.pdf
Bibliographic Citation
SCISKALOVÁ, M. and S. HARASIMOVÁ. Percepce korupce mezi úředníky územních samosprávných celků. Societas et iurisprudentia [online]. 2016, vol. 4, no. 3, pp. 165-176 [cit. 2020-01-01]. ISSN 1339-5467. Available at: http://sei.iuridica.truni.sk/international-scientific-journal/archive/issue-2016-03/perception-of-corruption-among-officials-of-local-government/.