Full Text of Paper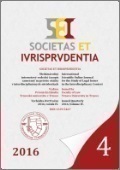 Read paper (PDF)
---
Source Type: Journal
Document Type: Study
Document Language: Czech
Published on: 31. 12. 2016
File Format: PDF
File Size: 778 kB
Eva Šimečková
In: Societas et iurisprudentia • 2016 • Volume 4 • Issue 4 • Pages 160-191 • ISSN 1339-5467
Abstract: The Spanish legislation does not regulate in any law the protection of employees against mobbing (with the exception of public administration). Violence on workplace violates fundamental rights included in the Constitution, mainly the right for equal handling and the right for dignity. Even though the Labour Code, nor the Law for Prevention of Hazard on Workplace do not contain definition of prohibition of mobbing, but protection of employees can be found in general provisions of the law. The legislation of administrative penalties in labour relations can be found in the Law of Offences and Sanctions in Social Order. The protection is provided by the Social Court Order in case of violation. The activity of the inspection of labour in the field of harassment and violence on workplace is regulated by notice which determines the procedure in the administrative trial. The important role plays the jurisdiction in trials dealing with mobbing.
Key Words: Violence on Workplace; Mobbing; Equal Handling; Discrimination; Right for Dignity; Labour Code; Prevention of Hazard on Workplace; Administrative Liability of the Employer; Administrative Offence; Offence; Labour Judiciary; Inspection of Labour and Social Security; Administrative Trial; Spain.
URL: http://sei.iuridica.truni.sk/archive/2016/04/SEI-2016-04-Studies-Simeckova-Eva.pdf
Bibliographic Citation
ŠIMEČKOVÁ, E. Právní úprava násilí na pracovišti (mobbingu) ve Španělsku. Societas et iurisprudentia [online]. 2016, vol. 4, no. 4, pp. 160-191 [cit. 2020-01-01]. ISSN 1339-5467. Available at: http://sei.iuridica.truni.sk/international-scientific-journal/archive/issue-2016-04/legislation-of-violence-on-workplace-mobbing-in-spain/.