Full Text of Paper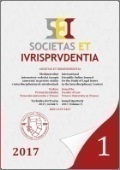 Read paper (PDF)
---
Source Type: Journal
Document Type: Study
Document Language: Czech
Published on: 31. 3. 2017
File Format: PDF
File Size: 706 kB
Eva Šimečková
In: Societas et iurisprudentia • 2017 • Volume 5 • Issue 1 • Pages 64-79 • ISSN 1339-5467
Abstract: The Spanish legislation does not regulate in any law the protection of employees against mobbing, with the exception of public administration. Violence on workplace violates fundamental rights governed by the Constitution, mainly the right for equal handling and the right for dignity. The branch of public administration is regulated by the Law No. 7/2007 of Fundamental Status of an Employee in Public Administration that determined that moral harassment (mobbing) is a disciplinary offence. Procedural process that deals with the harassment in public administration is regulated by notice which states specific actions and procedure with the aim to prevent harassment on workplace in the field of public administration as well as actions and sanctions for cases that occur in this matter.
Key Words: Violence on Workplace; Mobbing; Equal Handling; Discrimination; Right for Dignity; Public Administration; Disciplinary Offence; Sanction; Prevention; Solution of Conflicts; Administrative Judiciary; Spain.
URL: http://sei.iuridica.truni.sk/archive/2017/01/SEI-2017-01-Studies-Simeckova-Eva.pdf
Bibliographic Citation
ŠIMEČKOVÁ, E. Právní úprava mobbingu ve veřejné správě ve Španělsku. Societas et iurisprudentia [online]. 2017, vol. 5, no. 1, pp. 64-79 [cit. 2020-01-01]. ISSN 1339-5467. Available at: http://sei.iuridica.truni.sk/international-scientific-journal/archive/issue-2017-01/anti-mobbing-legislation-in-public-administration-in-spain/.