Full Text of Paper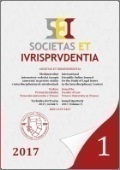 Read paper (PDF)
---
Source Type: Journal
Document Type: Essay
Document Language: Slovak
Published on: 31. 3. 2017
File Format: PDF
File Size: 597 kB
Silvia Treľová
In: Societas et iurisprudentia • 2017 • Volume 5 • Issue 1 • Pages 200-208 • ISSN 1339-5467
Abstract: The major source of the success of organisations is qualified workforce by which the recent period places the emphasis on flexibility, adaptability, and proactivity. The paper is focused on training and staff development as a means to achieve these properties. The analysis with using the comparative method brings the issues of deepening of qualification and increasing of qualification in terms of labour regulations. The aim of this paper is to point to the close link between the law and management in the issue of employees' education as human resources of company.
Key Words: Human Resources; Employee Education; Training and Development of Employees; Deepening of Qualification of Employees; Increasing of Qualification of Employees; the Slovak Republic.
URL: http://sei.iuridica.truni.sk/archive/2017/01/SEI-2017-01-Essays-Trelova-Silvia.pdf
Bibliographic Citation
TREĽOVÁ, S. Manažérsko-právne aspekty vzdelávania a rozvoja zamestnancov ako ľudských zdrojov podniku. Societas et iurisprudentia [online]. 2017, vol. 5, no. 1, pp. 200-208 [cit. 2020-01-01]. ISSN 1339-5467. Available at: http://sei.iuridica.truni.sk/international-scientific-journal/archive/issue-2017-01/managerial-and-legal-aspects-of-training-and-development-of-employees-as-human-resources-of-company/.